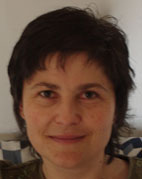 Corinne Vonaesch was born in 1970. She discovered and investigated artistic expression during her secondary education, in « visual arts » section. Self-taught, she then pursued her artist's route, gradually developing a personal pictorial expression. Therefrom arises a coloured and contrasted painting, mainly inspired by the surrounding world and the internal representations of the artist - both filled with characters, faces and feelings.
Through her painting, Corinne Vonaesch ceaselessly investigates and questions the human being, his interiority and his spirituality. Faces and represented characters are often turned towards themselves; they are purified. The spectator is therefore driven towards his own internal world, which he can investigate by means of the picture.
Another important source of inspiration follows from the Bible. In particular, two series illustrate famous texts : " The colors of Gospel - John's Gospel in 21 paintings " and " The seven days of the Creation" (Genesis). This spiritual dimension feeds the exploring of a contemporary Christian iconography, confronted with a double challenge: giving religious illustrations a renewed place into our present image society — as well as in the Church — while, in the same time, proposing a new representation of biblical stories, already represented by many other artists.
Corinne Vonaesch's painting is engaged. It guides the spectator towards his own human profoundness.